Lake Pflugerville Triathlon
Race Information

---
In 2021, we had a large number of first-time participants. As a result, USAT- and Ironman-certified Coach Briana hosted a First-Timers clinic at the lake. Dependent upon how much response we get next year, we may be able to offer that first-timer opportunity again for 2022. Be ready to listen and get prepared for your race!
Packet Pick-Up Schedule (TBD)
(

Note: You MUST bring Photo ID for all packets being picked up.

)


There will be no race day packet pick-up, except for PRE-APPROVED out-of-town athletes that have talked to one of the race directors.

If you have any questions, Email us.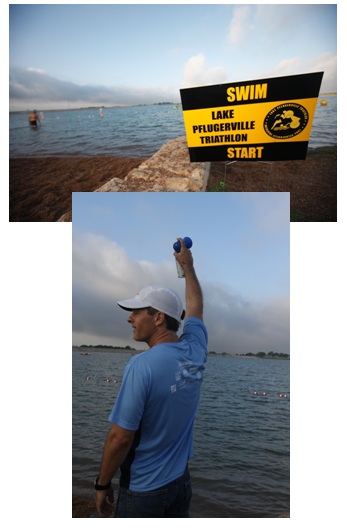 Race Day Schedule
5:00 AM Transition Area Open
7:00 AM Transition Area Closes
7:15 AM Pre Race Meeting
7:25 AM Race Start
Wave Schedule (Tentative)
| Wave | Start | Description | Swim Cap |
| --- | --- | --- | --- |
| WAVE01 | 7:25 | Oly Open Competitive Male & Female | Blue |
| WAVE02 | 7:28 | Oly Male Under 40 Age Groups | Yellow |
| WAVE03 | 7:31 | Oly Male AquaBike & Mil/FR | Red |
| WAVE04 | 7:34 | Oly Male Age Groups 40 and over | Orange |
| WAVE05 | 7:37 | Oly Female All AG, AquaBike and Mil/FR | Silver |
| WAVE06 | 7:40 | Para Athletes | Lime Green |
| WAVE07 | 7:45 | Sprint Female Open Comp | Green |
| WAVE08 | 7:48 | Sprint Male Open Comp | Blue |
| WAVE09 | 7:51 | Sprint Female AG under 40, AquaBike, Mil/FR | Red |
| WAVE10 | 7:54 | Sprint Female AG 40 and over | Pink |
| WAVE11 | 7:57 | Sprint Male AG under 40, AquaBike, Mil/FR | White |
| WAVE12 | 8:00 | Sprint Male 40 and over | Silver |
| WAVE13 | 8:03 | Open (Non-Competitive) | Yellow |
Your Responsibility
It is your responsibility to know the race course and rules. Volunteers and Race Officials are there to assist. Please see
USAT's site
regarding most common violated regulations.
Transition Area
NOTE: Only athletes are allowed in the transition area. The only exception to this is designated handler(s) for any paratriathlete participants. Athletes may NOT remove their bikes and equipment prior to the last cyclist returning and transition has been re-opened. Any violation will result in a DQ.
Body Marking
As a COVID precaution, we will NOT be body marking athletes this year.
Athletes: Per race rules, you will NOT be allowed to take your bike out of the transition area until the last cyclist is off the bike course, and it has been announced that transition is open. Doing so will result in disqualification AND requires reporting to governing officials, and could result in suspension from participation. You MUST exit transition with your bike at the point designated by the race team.
Directions to Race Site

From I-35, exit #247. Proceed East on FM-1825 through downtown Pflugerville. Go thru the intersection of FM-685 and FM-1825, HEB will on your left. Go approximately 2 miles (go over Toll Road 130) and take a left on Weiss lane. Go about 2-1/2 miles, past Pflugerville Parkway and Jesse Bohls Road. We will have volunteers to guide you. Spectators are encouraged to take the same directions as triathletes.

If you are referencing an address for your GPS, use 18216 Weiss Lane, Pflugerville, TX 78660 as your point of reference.

Directions After the Race Start
You will need to park on the south side of the lake and walk across the dam, to prevent interfering with the cyclists on the bike course. From I-35, exit #247. Proceed East on 1825 through downtown Pflugerville and cross under Texas Highway 130. You will see available parking to your left, alongside the lake.

Spectator Notes
Parking: Spectators who arrive prior to the race start will be able to use the same parking lot as athletes. Spectators arriving after the race start must park on the south shore of the lake.

Due to COVID precautions, only water and an electrolyte drink will be available to athletes during the race. Please bring bottles of water, coolers, snacks, etc. to make your experience at the Lake Pflugerville Triathlon more enjoyable.
Note: No canopies or umbrellas are allowed on the beach until all athletes have exited the swim area.

Please follow instructions given by the volunteers. There may be times where certain areas are off limits. For example, athletes will finish the race near the swim exit, so you will be asked to clear the area along the paved running trail once all athletes are out of the water.